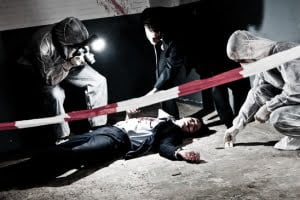 REDWOOD CITY — On Sunday, January 4, 2015 a 58-year-old woman was mugged in the parking lot of the Bridgepointe Shopping Center at approximately 7:30 pm. According to reports, the woman was knocked to the ground by an assailant who grabbed her handbag and escaped into a nearby Mercedes.
Three individuals were arrested in conjunction with the robbery after witnesses called in the license plate number of the vehicle. Police then discovered the vehicle in an alley near Rolison Road, with the suspects still inside. Upon a search of the vehicle, some of the victim's handbag contents were recovered. One of the suspects, 21-year-old Jose Gomez, was identified by the victim as the man who committed the robbery.
Gomez and two other men, 24-year-old Edgar Garcia and 18-year-old Vincente Chavez, were arrested under suspicion of gang activity and robbery. Alleged robber Gomez was also charged with violation of parole.
Man Charged with DUI Reveals Murder, Gets 96-Year Sentence
EAST PALO ALTO — A 50-year-old man arrested for DUI in August has been sentenced to 96 years for the brutal murder of his girlfriend. After his arrest for driving under the influence, Richard Slaughter informed police that he'd killed 47-year-old Philomena Ashford-Anderson at her Palo Alto apartment during a fit of jealous rage. Police proceeded to the apartment, where they discovered the body of Ashford-Anderson, whose throat had been cut.
After the attack, Slaughter proceeded to drink liquor at the apartment before taking Ashford-Anderson's firearm and heading out in his vehicle. Slaughter then crashed into two other vehicles and was arrested for drunk driving. It was at this point he confessed the murder to police. On Tuesday, Judge Mark Forcum of the San Mateo County Superior Court sentenced Slaughter to over 96 years in prison.
Two Teens Arrested for Residential Burglary During Holiday Season
REDWOOD CITY — Two male teens were arrested over the recent holiday season after committing residential burglary at an E Street home located in the 100 block. The suspects were spotted by a neighbor who noticed them entering the backyard of the home and called police. When officers arrived, the teens attempted to flee but were apprehended and discovered with stolen property from the residence on their possession.
The suspects, both reported to be 14 years of age, were taken into police custody and are being held at the San Mateo Juvenile Detention Center under charges of residential burglary. Only two weeks earlier, two other suspects in the area were also arrested for residential burglary after the homeowner discovered them when remotely viewing home security system footage.
If you or a loved one is in need of Redwood City bail bonds services, don't hesitate to contact us today. Icon Bail Bonds provides lightning fast, personalized service 24 hours a day, 7 days a week. If you can't make it to us, don't worry — we'll come to you! Our experienced bail bonds professionals are standing by — call now!