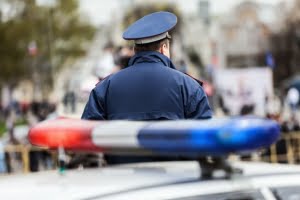 Crime is a rampant occurrence in our society, as those in the San Jose bail bonds industry know all too well. Thefts, assaults, drug offenses and beyond — these occurrences keep police, bail bondsmen and media outlets busy day in and day out. Last week brought us a variety of crime reports from the streets of San Jose:
Victim in Second San Jose Homicide of 2015 Identified
A shooting victim found inside a parked vehicle has been identified as 46-year old Sean Wofford. Police were alerted around 11:20 on Saturday morning when a passerby noticed the body of a man inside a parked vehicle in an East William Court parking lot. The San Jose Fire Department arrived to find Wofford dead at the scene. At press time, no further details have been released.
Suspect Sought in Safeway Bank Robbery
Police are on the lookout for the man who robbed the US Bank inside the Hamilton Avenue Safeway at gunpoint. The robbery was reported around 11:35 Friday morning. According to reports, a dark-haired Caucasian man in his early twenties approached the counter with firearm in hand and demanded money from the teller. The man received an undisclosed amount of cash and fled the scene, with no injuries reported.
Booby Trap Discovered at Homeless Campsite
When San Jose firefighters responded to a fire at an abandoned homeless campsite on Sunday morning, they discovered a booby trap similar to those used in the Vietnam War by communist soldiers. The dangerous trap was measured at two feet in depth and featured sharp spikes designed to cause injury. Authorities don't know who placed the trap or why — what they do know is that finding the perpetrator is highly unlikely.
These cases serve as examples of the unexpected twists and turns life can take. If you or a loved one ever find yourself behind bars, the first step is to obtain the services of an experienced San Jose bail bondsman. At Icon Bail Bonds, our friendly and professional staff is here day and night to serve you! We even make housecalls, so if you can't get to us we'll bring our services to you. Call or email us today — we're standing by!