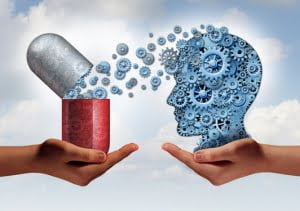 The incarceration of individuals suffering from mental illnesses is on the rise in our society. According to the National Institute of Corrections, over one million individuals with psychiatric disorders were incarcerated in 2006. Today, that number is surely even higher. One reason for this staggering statistic goes back to the 1950s — when there were large numbers of patients residing in state-run mental health facilities. In Dublin alone there are 4,000 inmates housed in the Santa Rita Jail, which is one reason the Dublin bail bonds industry is thriving.
 The Beginning of the Epidemic
The NIC estimates the population of state-run mental hospitals at approximately 600,000 in 1959. This number fell dramatically over the decades — estimated to be 70,000 patients in 1999. The reduction has little to do with the number of people suffering from mental illness, and more to do with efforts to integrate these patients into society.
Mental Illness and Crime: A Vicious Circle
Why are so many adults with psychiatric disorders landing behind bars? One theory is that many of these people experienced dysfunctional and traumatic upbringings, leading to their inability to function normally in society. In addition, the challenges of everyday life such as acquiring employment and maintaining healthy relationships may be overwhelmingly difficult to individuals with mental illness. Addiction and the criminal behavior that may accompany it is yet another factor that comes into play when considering why so many mentally ill individuals are incarcerated.
Many believe the solution lies with The Affordable Care Act, which helps previously incarcerated individuals obtain psychiatric treatment. In addition, some experts believe encouraging better mental health care for children and adolescents may help circumvent criminal behavior before it occurs. This is especially the case in lower-income households where adequate healthcare may not be readily available.
Imagining yourself or a loved one behind bars is difficult to think about. Simply being arrested can be a very traumatic experience. However, the services of an experienced bail bondsman can make the process easier. At Icon Bail Bonds, we offer lightning-fast service 24 hours a day, 7 days a week when you need Dublin bail bonds. Our experienced professionals are standing by to help you — and we even make housecalls!